Unstone Grange is a centre for personal creative growth. We provide a meeting space and accommodation for people to work consciously with others in developing their personal and spiritual lives through meditation, bodywork, retreats, healing, dance, drama, artwork, music, and whatever else works for them.
With panoramic views of the Derbyshire dales, and with easy access to Sheffield and the M1, it's the perfect place to hold your retreat, workshop or event. Our extensive facilities offer the flexibility to suit almost any type of group and activity.
The Main House: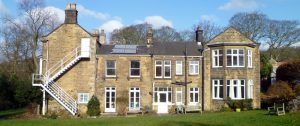 The main house includes our catering kitchen and dining room, perfect for all your catering needs, two lounges (which may be used for group work or relaxation), and 30 beds throughout 10 bright bedrooms.
The Barn:
The barn provides an ideal space for movement-based practices. With a view out into the wider fields and woodlands, the barn can be hired on its own or as an addition to a house booking.
The Garden:
Our extensive gardens include a large camping field complete with a fire pit, wide open lawns (perfect for picnics!), and thriving orchards and herb and vegetable gardens. As well as our old Beech and Oak trees, Apple and Plum trees grow steadily in the garden, offering a hefty supply of fruit in autumn. Our pond was given a new lease of life in 2016 and is now a lovely asset to guests as well as the local wildlife population!
Coming to Unstone Grange:
Unstone Grange is constantly evolving and growing thanks to a wonderful team of volunteers, who lovingly put their energy into creating a serene environment for all to enjoy. We offer a range of booking options, and there are also opportunities to volunteer at Unstone Grange both in the gardens and the Centre. For more information about this and for location, availability and prices click the menu bar above.